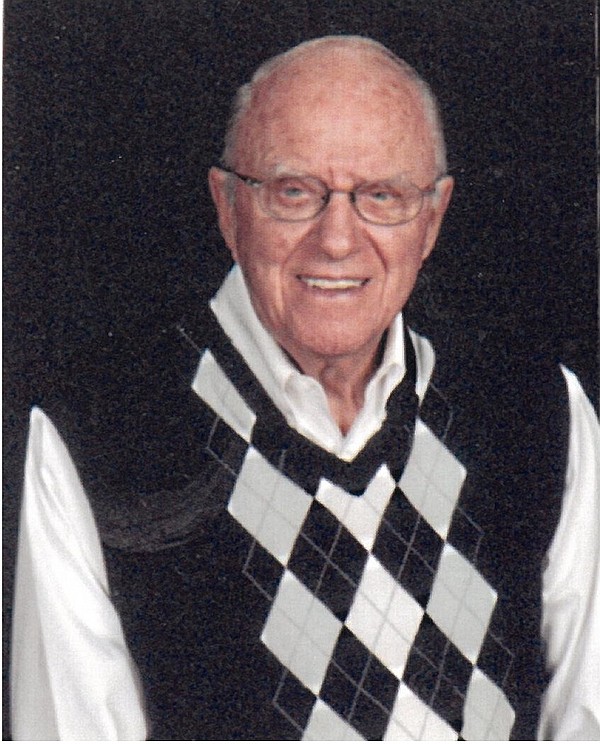 HOT SPRINGS VILLAGE – Werner "Lefty" Louis Leipold passed away in Hot Springs Village on September 15, 2021 from a brief illness. He was 96 years old.
Lefty was born in Immendingen, Germany on March 8, 1925, the eldest of two sons of Oskar and Hedwig Leipold. His parents immigrated to the United States and settled in Milwaukee when Lefty was 4, where he remained until graduation from Washington High School. He was vice president of his junior and senior classes and sports editor of the school newspaper.
He often reflected on how lucky and blessed he was to be brought to America as a young child. Growing up in Germany in the 1930s in his mind was unimaginable.
Lefty's childhood dream was to be a professional baseball player – another Lefty O'duel. The years of war and other problems meant that these dreams were not realized. However, fate and her son Craig came to the rescue. For his 70th birthday, he had the honor of throwing the first pitch in a Milwaukee Brewer baseball game. A memorable photo of that moment hangs in his office.
After high school, Lefty enrolled in engineering school at the University of Wisconsin with just enough money to get through the first semester. The money problem was solved when, on July 1, 1943, he enlisted in the Navy and was accepted into the First Class of the Navy V-12 program designed to prepare young men for active service as a officers and completed his accelerated studies while active. homework at university. He was a member of the Phi Delta Theta fraternity. After graduating as a Mechanical Engineer, he served in the Pacific Theater on an attack transport and then on a reefer. In the fall of 1947, after returning to college for a year of business school, he began what turned out to be a 40-year career with the Kimberly Clark Company.
On June 11, 1949, Lefty was indeed fortunate enough to marry a grown-up girl from Little Rock, Betty Jo Hartsell, an American Airlines flight attendant recently transferred from New York to Memphis at her mother's insistence. so that she doesn't marry a Yankee. Ironic how things go sometimes. The marriage lasted over 65 happy, exciting, adventurous and loving years.
Lefty's career has included a number of geographic shifts that have led him to career paths in engineering, human resources, and manufacturing. Among his varied assignments, he had a period of service as director of plans during construction and then the first plant manager of the Kimberly Clark plant in Conway, Ark. Conway was Lefty and Betty Jo's favorite mission. Later, he was vice president of corporate human resources, then general manager of the corporate subsidiary in Germany.
Lefty retired in 1987 and he and Betty Jo moved to Hot Springs Village, Ark., Where he served as secretary of the public works committee and a member of the board of directors for Cedar Mountain Ambulance. He was an active volunteer in the village and a member of the Kiwanis Club and Christ of the Hills Methodist Church.
In the fall of 2015, he moved into an apartment of the Good Samaritan, where he spent six happy years. Many residents have had the privilege of tasting the "Werner's Wonderful Belgian Waffles" either during a breakfast in their apartment or during a personal delivery.
Lefty loved life and the older he got the more positive his attitude was. He will tell you that he has been truly blessed all of his life.
Lefty was sentenced to death by Betty Jo (2014) and her stepdaughter, Donna (2021).
He is survived by two sons: Lance of Hot Springs Village, Ark., As well as his granddaughters, Laura of Winston Salem, North Carolina, and Shannon of Dallas, Texas; and his son, Craig (Helen) of Racine, Wis., and his grandsons, Chris of Cape Coral, Fla., Connor (Veronica) of Washington, DC, Sam of Key West, Fla., Bradford of Racine, Wis., and Kyle (Melissa) and her great-granddaughters, Cora, Iva and Mara, and her great-grandson, Everett of Cedarburg, Wisconsin.
The funeral will be held at Christ of the Hills Church, 700 Balearic Road, Hot Springs Village, AR 71909 at 1 p.m. on October 15, 2021.
Instead of flowers, the family recommends giving gifts to Teen Challenge of Arkansas or the Boys & Girls Club in Hot Springs Village.