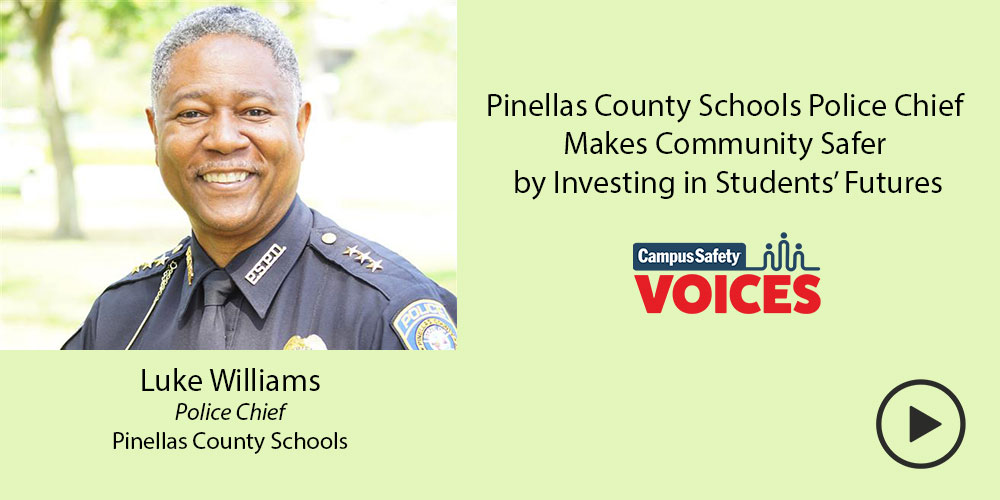 Pinellas County Schools Police Chief Makes Community Safer By Investing In Students' Futures
Podcasts
As a product of the schools he serves, Chef Luke Williams' commitment to student success is clear through his many youth-focused initiatives.
Listen to this podcast using the embedded player below
Eleven years ago, three officers from the St. Petersburg Police Department were killed in the space of 30 days. One of the policemen was killed by a 17-year-old boy. In response, then-Deputy Police Chief Luke Williams and the Reverend Kenny Irby – both of whom have significant ties to the community – met to brainstorm ways to help the county's youth. Pinellas to follow a path that helps them succeed (20:39).
"We asked, 'What can we do to impact these kids and make a difference so that we don't lose officers on one side and kids don't ruin their lives on the other? "said Williams, who is now the chief of police in Pinellas County Schools and a 2022 Campus Safety Finalist for Director of the Year.
This is how the 'Men in the Making' mentoring group began. According to its website, Men in the Making is a "progressive initiative focused on role modeling and life skills to increase the success of minority men from cradle to college". Mentors include a Major, Deputy Leader, Philanthropist, Retired Deputy, Director of Business Inclusion, and American with Disabilities Act (ADA) Coordinator, among others. Since 2011, more than 500 children have taken part.
"Our goal is to give kids experiences or take them to experiential-type events and then have them write about it," Williams explained. "So we're looking at it from an exposure perspective, but also from an academic perspective, to make sure they're getting those skills."
Experiences include dinner at an Italian restaurant where youngsters learn etiquette, like where to place a napkin and what utensils to use depending on what they're eating. They visit a veterans cemetery and discuss the contributions and sacrifices veterans have made in the United States. Fine arts museums are also frequented, and some students have even been invited to become docents. Participants also learn life skills like the Heimlich maneuver and how to tie a tie.
"We want you to be able to tie a tie because once you learn how to do it, you figure it out," Williams continued. "Just like you learn the multiplication tables and learn the parts of a sentence and are able to write a paragraph, once they have that fundamental knowledge, they still have it. So those are the kinds of things we're trying to do.
Williams is a longtime resident of St. Petersburg. He, his wife, and three children all went through schools in Pinellas County. So for him, it's personal.
"I just want to make sure that all of our children have a fair chance to be able to learn in a safe environment," he said.
The
Campus Safety
The Director of the Year Awards honor the best and brightest executives in the fields of hospital, college and school security, law enforcement and emergency management. The 2022 winners will be announced at this year's Campus Safety Conference East, taking place June 20-22 in Bethesda, MD. For more information and to register, visit
CampusSafetyConference.com
.
Chief of Police Dedicated to Student Betterment
Another student-focused initiative that Williams is particularly proud of is distributing collapsible gym bags to accommodate children attending schools in Pinellas County. Often, when children are moved from one foster home to another, they must put all of their belongings in garbage bags (28:11).
Williams approached the Pinellas Police Standards Council with the issue and requested funding for the bags. With the group's support, Williams was able to secure the funds and purchase nearly 3,000 bags. The program, called "Tiny Totes," provides students with gym bags in addition to bags filled with toiletries and other basic necessities.
"We distributed them to the various agencies so they could, when they find themselves in these situations, give them to students and help them through this transition," Williams said. "Trying to add some dignity to a difficult situation for our children."
Through the many submissions from colleagues who nominated Williams for Principal of the Year, it's clear he puts student welfare above anything else.
"Always have time to talk with a child and try to help them with any issues they are having," Williams said. "My goal and desire is that through the uniqueness of my position and the agency I have, I'll be able to select people who have a similar mindset: they really care about kids, they care about the future and they will do whatever they can to help and guide them.
Williams also spoke of other impressive initiatives he spearheaded during his short time as police chief, including:
How he successfully and impactfully conveyed the role of law enforcement within the school system to the community served (2:05)
How he partnered with local police chiefs and Pinellas Sheriff to create a collaborative agreement after the murder of George Floyd (9:43)
How he continually worked to improve officer morale, tailoring it to each individual's perception of what "morale" entails (14:06)
Watch our full interview here or listen on the go Apple Where Spotify.