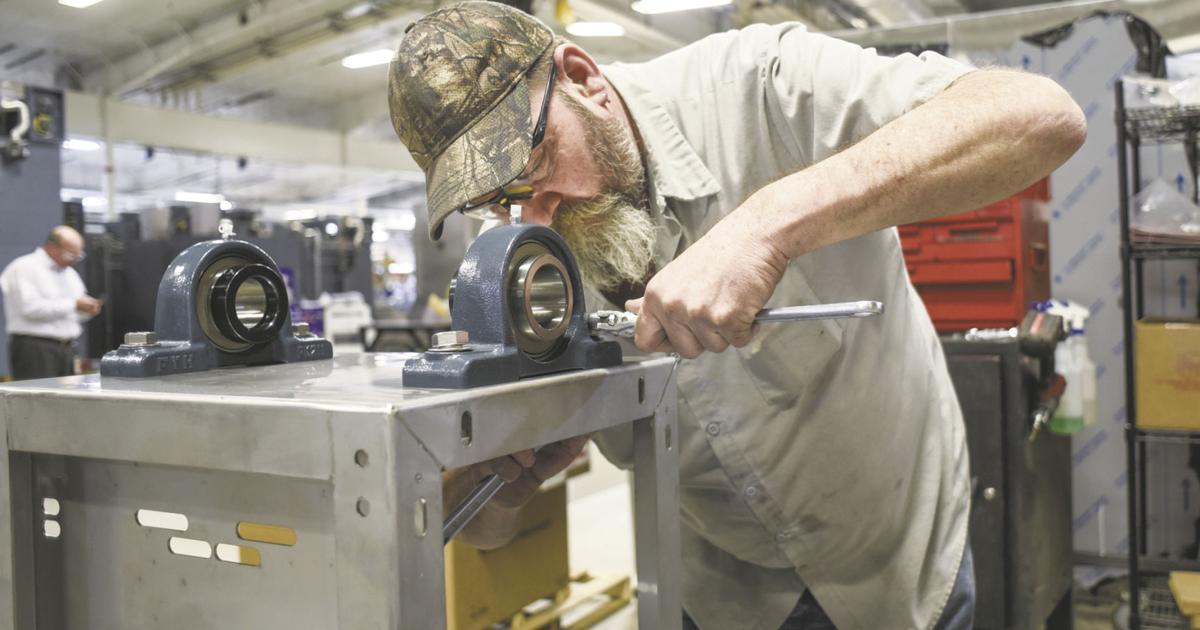 Pik Rite gets creative and adapts to supply chain issues | Coronavirus
Thirty-six years ago, two farmers in Union County embarked on a mission to build a better machine for picking field tomatoes.
Today, their company, Lewisburg-based Pik Rite, continues to fulfill that mission and thrives, despite the pandemic and a rocky economy.
"We had supply chain issues like many others, but our team did well to adapt," said Randy Beiler, vice president of operations and finance. "It seems like every week there's a new shortage, but the team is pulling together and finding creative ways to solve it. It's kept us from having any closures or complete shutdowns. We're blessed to have the people we do.
Regarding the workforce, Beiler said, "It's a tough time to add people because anyone who wants to work has a lot of options. We have a great team and our goal has been to find creative ways to communicate who we are.
"Pik Rite is a great company to work for and we aim to show that to people outside the company," he said. "Overall, our number of employees has increased and productivity has increased."
Pik Rite officials believe the company is as well positioned over the next few years as the United States emerges from the pandemic.
Beiler said Pik Rite products are in demand, which puts them in a position to thrive. Product diversity provides Pik Rite with stability when the economy changes, which provides job security for employees, he said.
"Pik Rite employs nearly 100 employees at our two Lewisburg manufacturing facilities and we are actively hiring," Beiler said Tuesday. "We are looking for experienced positions, such as fabricators and welders. But we will also train motivated people. Our mission is to provide individuals with the opportunity to grow personally and professionally and our team is proof of that.
Company employees design and build vegetable harvesting equipment, agricultural manure spreaders, hydroseeding equipment and commercial waste handling equipment, such as vacuum tanks.
"We've come a long way in those 36 years," Beiler said. "We embrace the future in a big way."
Pik Rite sells its gear internationally, Beiler said.
"We have a presence on Facebook and show our products on our website," he said.
Companies in Canada, China, Chile, Brazil, Argentina and Australia use Pik Rite products.
"It's a new world," admitted Beiler. "And you have to use social media as part of your marketing mix."
Dedicated, Longtime Employees Help Furmano Weather Storm
Furmano Foods, a Northumberland canned food company that has just celebrated its 100th anniversary, has persevered, despite a world war, depression, several recessions and a pandemic.
Through it all, Furmano's has emerged stronger, with big opportunities ahead, according to company officials.
Although the past few years have been challenging due to supply chain disruptions, rising costs and ongoing labor shortages, Furmano's prides itself on delivering an overall positive customer experience, said Chad Geise, President and CEO. "The focus on doing everything they can to ensure customer service is a differentiator for the business," Geise added.
"Furmano's has been dedicated to continuous improvement, new product development and product capability, so they can provide service to their customers and support their community with jobs," Geise explained.
"We are fortunate to have employees who have worked with us for many years. We even have one who has worked with us for 56 years," Geise said. "Their dedication and contributions have been remarkable. They exemplify our culture of perseverance, even during difficult times. »
Warehouse float Pierre Kinsey praises Furmano's products, customer service and employee relations.
"Working at Furmano gives me security and stability, knowing I have a great, well-paying job," Kinsey said. "In addition, they are investing in new equipment to ensure the business continues to move forward. I'm so grateful to work for a company that treats me more like family than just a number.
Jennifer Wade, talent acquisition specialist for Furmanos, praised long-serving employees, but said there was also a need for new workers.
"We have approximately 40 full-time positions, as well as seasonal positions (May through October) that cover all skill levels, from entry level to forklift operators and skilled machine operators," Wade said. . "We have great promotion opportunities from within. With good work performance, good attendance and good work behavior, you can decide your own career path.
The first day on the job at Furmano was the first time label machine operator Eddie Frazier had worked with machines, a moment he says made him a little upset.
"Luckily I was welcomed with open arms," ​​he said. "The warehouse supervisors were patient with me and helped me through the process by explaining the label line to me in detail. They took their time and made sure to answer all my questions and if I had any concerns they answered them promptly.
"They set a good example and other colleagues treated me the same. Great team to work with!"
Thermal Product Solutions executives tout niche, brand awareness, quality, employees
Thermal Product Solutions (TPS) of New Columbia is one company that has found a niche where it can thrive, despite the pandemic.
"The big thing for me as to why we've been so successful for years," said Brad Conner, engineering manager, TPS, "is because of the people. We have a lot of employees from long time who have continued to build the brand.
"The second thing that has been good for us is our diversity in the industry we serve."
TPS customers come from a wide variety of industries, Conner said.
"Pretty much any industry that exists at some point will use an industrial furnace during any manufacturing process," he said. "There are just a lot of uses for our equipment in the manufacturing sector, and because of the variety of our products, it has allowed us to be successful no matter what is happening in the economy."
TPS designs and manufactures industrial and laboratory ovens and ovens, as well as stability and ambient temperature cycling test chambers. His brand is well known. If you want a commercial oven, you go to TPS, said Bucknell economics professor Christine Ngo.
TPS, in a company statement on its website, said it has stayed ahead of its competition by creating custom, efficient equipment that will last a lifetime.
Fresh locally grown salad greens boost growth
BrightFarms opened in Selinsgrove in February 2020, just before the pandemic.
"It was a crazy time to open a new farm, to have a new team that could take over the farm," said BrightFarms Commercial Director Abby Prior, "but the execution has been flawless from the part of the team. We have been fortunate to have a persistent team throughout the pandemic.
"We're hiring today (Friday) and we're still hiring and still looking for great people. But we still have this strong core of people who signed up in 2020 and got through the pandemic," Prior added.
The Bright Farms brand is emerging through the pandemic even stronger than before, she said.
"People started eating more at home," Prior explained, "and focused more on their health and what they were putting into their bodies."
Being local, being fresher and being pesticide-free has only become more important to consumers, Prior suggested when asked why Bright Farms has gotten stronger.
"There have been dramatic supply chain impacts in other parts of the country," she said. "Having our vegetables come from here in Selinsgrove, as opposed to California or Arizona, where most of the salad greens on supermarket shelves come from, has been a real plus for us. ."
Prior also attributed their success to their partner, GIANT supermarkets.
"Our largest retail partner in this area is Giant. We were able to keep their store full of product and they gave us strong in-store support to help us grow our business through the pandemic," Prior said.
Bright Farms, like other manufacturers, had to overcome obstacles, such as labor shortages.
"I wish I could say we're absolutely immune to that," she said. "Were not. Certainly the shortage of labor has had some impact, given the labor shortages in the market, but we are doing well. We offer our farmers very great health benefits. We have a strong corporate culture that seeks to develop people from within, promote from within and provide further opportunities for growth."
To address supply chain issues, "we order packaging well in advance. and try to have more of our supplies on hand, and any other materials we need to take out the salads. We've certainly changed the way we handle this, but we've been really lucky so far.